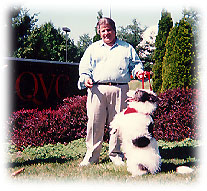 On August 8th, QVC-TV became DOG-TV as the nation's #1 shopping network finally went to the dogs!—And that's a compliment!

For on that day, everywhere you looked, there were DOGS!

There were dogs in the studio, dogs in the green room, dogs in the cafeteria and dogs out on the highly manicured lawns playing fetch!

And that's just Bash and Mike!

Seriously, though, it seemed as if there were 400 dogs that day at QVC, because everywhere you looked, THERE THEY WERE!

In fact, there were just 4 dogs! But the powers-that-be at QVC-TV were so gracious, that the dogs were, literally, given complete run of the place! Indeed, the canines were given carte-blanche from catered food in the green room to actually dining in the company cafeteria! Everyone from the head honchos to the hairdressers were extremely dog-friendly and gracious...

So, just who were these 4 lucky dogs and just why did QVC roll over belly-up like a submissive puppy for them?

Well, Mike the Dog was there to sell Bash Dibra's new training video, SIMPLE SOLUTIONS (which, by the way, sold out!); and the other three dogs were the elite entourage to (puff, puff!) comedienne, talk show queen and QVC diva, Joan ("Can We Talk?") Rivers! Who, by the way, ALSO sold out her line of jewelry!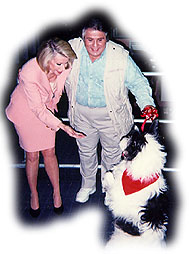 Joan's three dogs include, of course, the usual suspects and TV stars, the inimitable Yorkshire Terriers, Spike and Veronica, whom we all know from their TV appearances with Joan; and the third dog (who shall remain nameless, as he is not in show business, and does not want his private life made public!) is a wonderful and rambunctious young Boston Terrier! (Actually, the buzz around the studio was that Spike, aware of his celebrity status as Joan's #1 dog, caught an attitude with Joan's new Terrier and is more than a little jealous! Looks like Bash may have to make a housecall!)
Bash's sidekick, Mike the Dog, on the other hand, is about as laid back as they come! Although a total professional (he's been on many TV shows including MTV and Conan O'Brien, and countless commercials, most recently for Wrigley's Doublemint Gum and Burger King), he's known life on both sides of the track. Indeed, he lived a hard life as a stray on the streets for the first 3 or 4 years of his life, finally being rescued as he "vegged out" on an abandoned sofa in a rough neighborhood!
In fact, Mike believes if you're tough enough to survive sleeping nights on an abandoned sofa in a tough neighborhood, you're certainly tough enough to fight Hollywood's infamous "casting couch"!!! Mike's a real success story, on and off the screen!
Indeed, Mike's incredible professionalism belies just how much of a success story he is! When he was rescued by Judy Jensen (herself an actress, having logged several seasons with the legendary "Patty Duke Show" and, more recently several spots on commercials and soap operas) he was deemed untrainable by the countless trainers and animal behaviorists Miss Jensen hired. In fact, people were advising Judy to give Mike up—he wasn't worth it... It was only Bash, who, not only had faith in Mike, but could see the diamond in the rough. To Bash, no dog is untrainable, and some, like Mike here, even shoot to stardom!
Indeed, the whole point of Bash's video, "Simple Solutions" is to SAVE PETS! Over 15 million pets are abandoned each year in the United States because, like Mike, they are "hard to handle" or deemed "untrainable". Bash's mission is to help people and pets understand one another and strengthen that bond. A happy, well-behaved pet is not a pet that will be abandoned.
Bash and Mike's excellent adventure lasted only 24 hours, but their memories will last a lifetime!
Mike loves his owner, Judy, but, sometimes, like now, work takes you away from home, and, sometimes, also like now, a guy just likes to have a day out with "the boys"!
So Bash and Mike started out on the afternoon of August 7th—just two guys in a van!—and drove the three hours from New York City to Philadelphia. There, they checked into a posh hotel, and had just enough time to drop off their bags and rawhide chewsticks, before heading over to the studio to meet with producers for the following day's performances.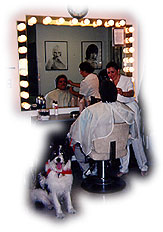 With an early call for hair and make-up the next morning, Bash and Mike returned to the hotel for and early dinner. Thanks to lovely weather, Bash and Mike were able to have a leisurely dinner at the hotel restaurant's garden pavilion, where their every need was graciously met. Service was spectacular, and Bash and Mike were not surprised to find a framed 8 by 10 glossy of Lassie in the hotel's main salon! Obviously, this hotel knows how to treat its' celebrity guests!
After dinner, Mike and Bash retired to their beautifully-appointed hotel suite, where every need was accomodated from a fax machine to a Jacuzzi! I don't know if Mike used the Jacuzzi, but he sure looked awfully "buffed" on TV the next day! I've never seen him look better!
The next morning it was up before dawn for the guys, and they pulled into the studio when it was still dark. Bash hit the men's room and Mike hit a few trees, and then it was a blur of hair and make-up, meetings and rehearsals.
When the big moment finally came—lights! camera! action!—Mike and Bash were so hot, that sales went through the roof! Mike and Bash were exhilarated; but tired, and looking forward to heading home, when the edict came down from the director's booth: "Those two are terrific! I want them back for the afternoon show, too!"
Well, what's a man and a dog to do? The show must go on; but Bash and Mike had risen at 4:00a.m. and were, after a job very well done, looking forward to going home! But the SIMPLE SOLUTIONS video was hot, and proving it's popularity, so Bash and Mike stayed and awaited their second show in the limbo that every TV and movie actor knows: "Hurry up and wait!"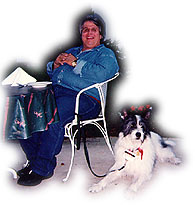 So, Bash and Mike made the best of their time. They hit the cafeteria a few times for snacks and lunch, went outdoors to walk and play fetch with Joan's French Bulldog, and then met Joan and Spike and Veronica back in the studio and reminisced about old times—and, maybe, NEW times, if Spike doesn't get his act together with the Bulldog!
Finally, it was showtime again, and watching Bash and Joan on their shows, I fully expected to hear Billy Joel crooning (and Christie Brinkley slinking!) to the famous "Uptown Girl"! For their was Bash and his definitely downtown dog, Mike, rolling up their sleeves and really getting into demonstrating bad behavior problems—and then their was the beautifully coiffed and coutured Joan and her ultimate uptown dogs selling fine jewelry!
A good time and big success was had by all during Bash and Mike's excellent adventure!