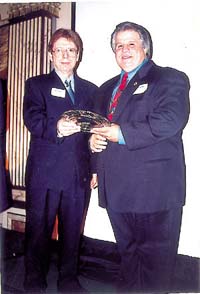 CELEBRITY TRAINER
BASH DIBRA
RECEIVES
NORTH SHORE
ANIMAL LEAGUE
LEGENDARY
BOND AWARD
On September 19, 2000, The North Shore Animal League America bestowed on celebrity dog trainer, Bash Dibra, its first Legendary Bond Award. The award recognizes people who have made a commitment to the humane cause and have taken extraordinary measures to improve the lives of companion animals. The award was presented at the first annual Lewyt Humane Awards Luncheon, held in Garden City, New York.
Known as "dog trainer to the stars," Bash Dibra is the pet guru of choice for celebrity clients such as Matthew Broderick and Sarah Jessica Parker, Kim Basinger, Jennifer Lopez, Henry Kissinger and Mariah Carey. However, it is his tireless efforts on behalf of animal-related charitable causes that have made him renowned in humane circles.
Bash has been the driving force behind such successful fund-raising events as the ASPCA Dog Walks and Delta Society Service & Therapy Animal Awards. He conceived, and each hear hosts the annual Paws Walks, which benefit New York City's parks while promoting responsible pet ownership. This year's event, Paws Walk 2000, was a five-week five-borough event which raised hundreds of thousands of dollars, both for city parks and animal charities. Bash Dibra regularly works to promote programs such as Delta Society's Pet Partners Program, in which people and their pets visit people in nursing homes and special schools, and North Shore Animal League America and other shelter programs which rescue and place abandoned animals.
Dibra views these cause-related events as an opportunity to educate the public to the commitment involved in owning a pet. He believes that responsible pet ownership, including appropriate owner/pet training, could do much to elimate one of the nation's largest problems: the 15 million unwanted pets abandoned each year, 80% of them the result of entirely avoidable behavior problems.
While Bash Dibra continues to be one of the nation's most sought-after animal behaviorists, his reputation as a fundraiser and generous supporter of humane animal causes continues to grow. It is that quality that has won him the first North Shore Animal League America Legendary Bond Award.