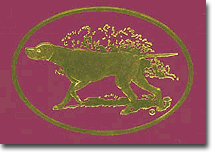 THE 124th WESTMINSTER
KENNEL CLUB DOG SHOW
JUDGING PROGRAM
1999
AMERICA'S FIRST
AKC CHAMPIONS ONLY
DOG SHOW
124th ANNUAL DOG SHOW
- BENCHED -


FEBRUARY 14th and 15th, 1999
MADISON SQUARE GARDEN CENTER
New York City, New York
---


COVERAGE

Monday, February 14
8:00 PM - 11:00 PM ET/PT
(Repeats Tuesday, February 15, 11:00 AM ET/PT)
Best of Group Competitions will be judged in the following order:
Working
Terrier
Toy
Non-Sporting

Tuesday, February 15
8:00 PM - 11:00 PM ET/PT
(Repeats Wednesday, February 16 at 11:00 AM ET/PT)
Best of Group Competitions will be judged in the following order:
Sporting
Hound
Herding

Followed by Best In Show Judging


---

DOG SHOW COMMITTEE
RONALD H. MENAKER, Chairman
230 Park Avenue, Suite 644, New York, NY 10169-0644


Roger A. Caras
Ronald H. Menaker
William H. Chisholm
Bernard E. McGivern, Jr.
George F. Clements, Jr
James F. Stebbins
Chester F. Collier
William F. Stifel
Charles M. Curry, Jr.
Judson L. Streicher
William M. Duryea, Jr.
Robert E. Taylor
Thomas J. Hubbard
Peter R. Van Brunt
Robert V. Lindsay
Frederick W. Wagner III
| | | |
| --- | --- | --- |
| Office Manager | Chief Steward | Press and Public Relations |
| Rita Lynch | Frederick W. Wagner III | Thomas H. Bradley, 3d |

Veterinary Service
Veterinary Medical Association of New York City, Inc.
331 West 57 Street, Suite 293, New York, NY 10019

Official Photographers
John L. Ashbey, P.O. Box 468, Gilbert, PA 18331 (610) 681-4968
Charles Tatham, P.O. Box 268, Munsonville, NH 03457 (603) 847-9040

The officers and members of the Dog Show Committee of The Westminster Kennel Club did not exhibit at this show.


[ Bash Dibra ] [ Book Store ] [ Pets, People & Parks ]
[ Press Clippings ] [ Events ] [ Fieldston Pets ] [ NYC Vets ]
[ Adoption ] [ Cyber Heaven ] [ Contact Us ] [ Articles ]
[ Make Your Pet A Star [ Other Related Links ]